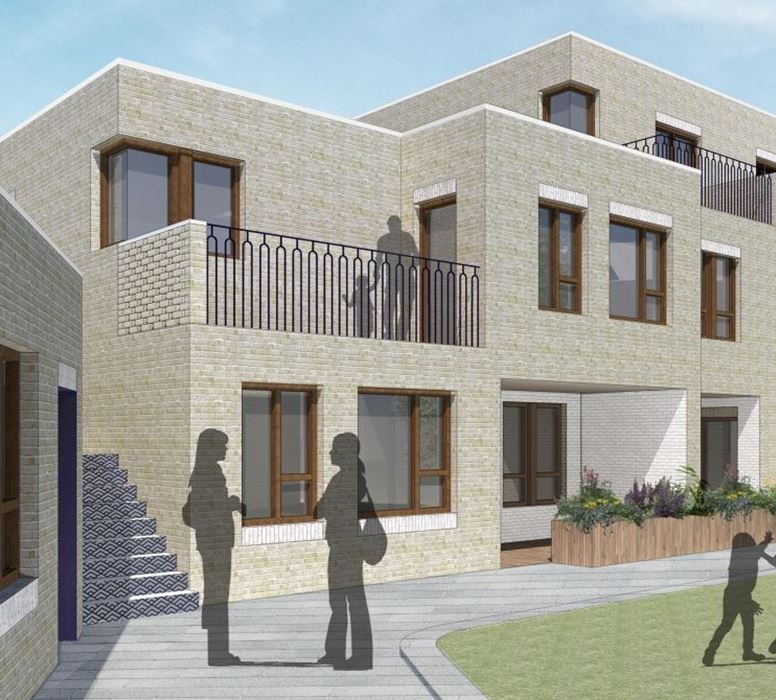 126- 128 STONHOUSE STREET 
Lexadon Property Group are excited to announce 9 aprtments in a courtyard setting in Clapham, South- West London.

The design for this site is inspired by its historical use as a milk bottling facility for a local dairy; creating a small community of new dwellings in this back-land setting, behind an existing Victorian villa style building (which is to be retained).
The site is within the Clapham Conservation Area and the design seeks to integrate with the surrounding area through its modest scale and material palette. The scheme design acknowledges the site's back-land characteristics, and as such the overriding principle is that the proposed development appears 'subservient' in scale to the buildings which surround it.

The site's history is playfully referenced in some of the smaller design details, such as the reveals of the entrance doors, and in the tiling on the stairs – the navy and white reflecting the old milk bottles from Denny's Dairy.

The pattern in the metal balustrading and entrance gates is an abstract interpretation of the form of a milk bottle. A suggested name for the new development is 'Old Milk Yard' with signage design which nods to the old milk bottle tops.
The scheme design aspires to create a development of modern villas, with a courtyard housing typology, which turns the site's constraints into an architectural opportunity.

The constrained nature of the site has been managed through the plan arrangement, positioning and orientating the units to avoid direct overlooking and retaining privacy within the intimate setting. The creation of a landscaped courtyard to provide communal amenity space also enhances the outlook for residents and adds to the sense of community.

Balconies are 'carved' out of the dwellings at upper floors, creating more interesting and varied forms. External staircases break up the development into smaller parts, reading as a collection of individual 'villas' which respond to the proportions of the existing building at the front of the site. An ancillary block reflecting an old coach house building frames the entrance to the development.